Known as the City of Gold, Dubai is home to some of the most luxurious hotels in the world. From five-star beachfront resorts to opulent city retreats, visitors can experience a taste of luxury and sophistication in this glittering metropolis.
If you're searching for an unforgettable holiday destination, here are some of the most luxurious hotels in Dubai that will provide you with an unrivalled experience.
The Burj Al Arab is one of the most iconic buildings on Earth and has one of the best hotel offerings in Dubai. Located on its private island, guests can enjoy views over Jumeirah Beach from their terrace or suite balcony.
As well as extravagant suites, guests can take advantage of exclusive lounges and pools, a private beach club and 24-hour butler service for ultimate relaxation and indulgence.
5
Four Seasons Hotel Dubai
Four Seasons Hotel Dubai
The Four Seasons Hotel Dubai International Financial Centre is the ultimate destination for luxury and opulence. Located in the heart of Dubai, this remarkable five-star hotel offers its guests a unique experience.
From its stylish interior design to its top-notch service and amenities, it is no surprise that Four Seasons Hotel Dubai International Financial Centre has become one of the most sought-after hotels in all of Dubai.
Four Seasons Hotel Dubai International Financial Centre takes hospitality to a new level, from exquisite dining options to luxurious spa treatments with stunning views of Burj Khalifa and Palm Jumeirah. Guests can enjoy the city's beauty while enjoying fine dining or relaxing at the hotel's poolside bar.
Armani Hotel
The Armani Hotel in Dubai is a world-class hotel that offers an experience like no other. Located in the Burj Khalifa Tower, the tallest building in the world, this luxury hotel is at the top of many visitors' must-visit list when travelling to Dubai.
Guests can appreciate and marvel at the best views of Dubai from every room. The Armani Hotel offers an exquisite range of amenities, from its personalized service to its modern decor, which reflects the contemporary Italian style.
Its luxurious rooms are spacious and offer guests all their needs, including a king-size bed with fine linens, a full bathroom with marble finishings, and individually controlled temperature settings for maximum comfort. Guests can also enjoy complimentary Wi-Fi access throughout their stay.
Address Downtown
Address Downtown stands out among the many luxurious hotels in Dubai for its world-class amenities and iconic downtown location. Located at the foot of Burj Khalifa, the world's tallest building,
Address Downtown offers guests breathtaking views from their room windows and unique opportunities to explore some of Dubai's most popular attractions.
From the infinity pool on top of the hotel to their fully-serviced spa and wellness center downstairs, Address Downtown guests will have a comfortable stay that will exceed all expectations.
Beyond the exceptional service provided by staff members, those staying at Address Downtown can also take advantage of special offers such as gourmet dining experiences, private theatre screenings, complimentary champagne breakfasts and much more.
The most luxurious hotels in Dubai offer guests a world of unparalleled luxury and service. Sky View, located in the city's Burj Khalifa district, is one such hotel that will leave you with lasting memories. Sky View has something for everyone, from its stunning two-tiered infinity pool to its chic and contemporary guest rooms.
Sky View boasts an impressive selection of amenities, including a spa and wellness centre with a range of treatments and seven restaurants offering everything from international cuisines to traditional Arabian dishes.
Guests can also take advantage of the rooftop terrace with panoramic views over the city skyline or relax on the beachside cabanas while enjoying various water sports activities. For those looking to stay connected during their stay, complimentary Wi-Fi is available throughout the hotel premises.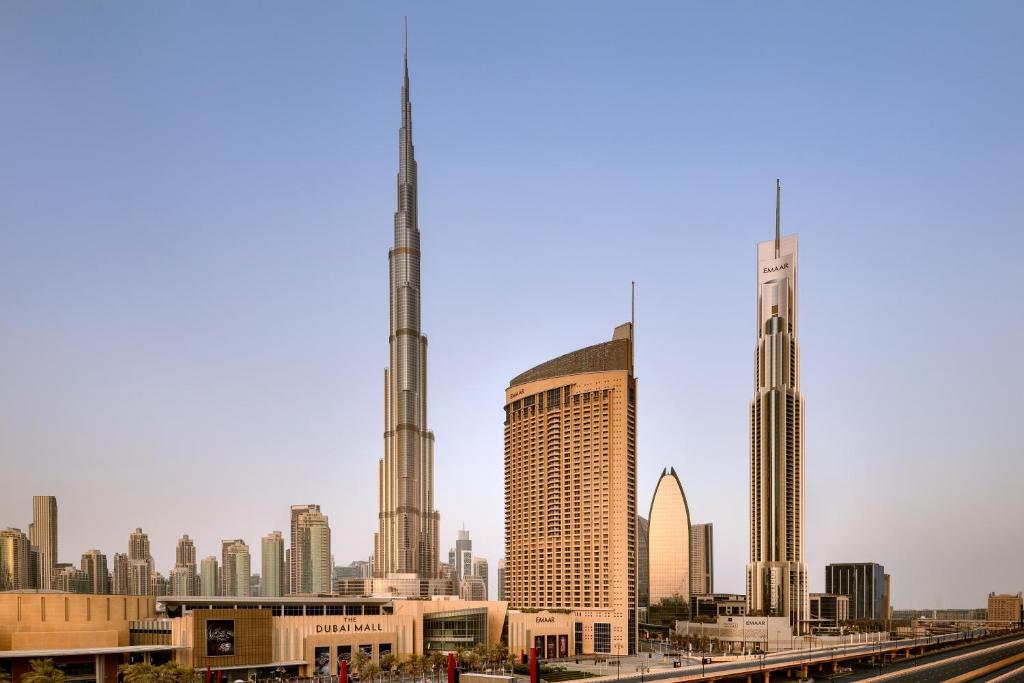 The Address Dubai Mall is one of the most luxurious hotels in Dubai. Located in the heart of downtown, this iconic hotel offers stunning views and exceptional amenities. From its rooftop infinity pool to its chic lobby bar, this five-star lodging boasts a range of upscale features that make it an ideal destination for travellers looking to experience luxury living at its finest.
The hotel's spacious guest rooms feature first-class furnishings, high-speed internet access, and flat-screen TVs with international channels. The onsite spa provides guests with a range of rejuvenating treatments, such as massage services and beauty rituals, while the fitness center is equipped with state-of-the-art equipment for those looking to stay active during their stay.